CUSTOM PACKAGING SOLUTIONS
Support Brands To Grow With Their Perfect Packaging In Any Size & Style
Who we are?
This site is owned and operated by Mahnoor Khalid. Universal Packaging ca provides flexible packaging service to Canada in order to help brands of all sizes and small businesses to grow within a limited budget. We deal in boxes, labels, stickers, bags, booklets, calendars, clings and many printing products. Our standard turnaround is 8-12 business days however, we do have an express production plan as well. The expedited production plan takes 6-7 business days to produce your required order. For further details please contact at zack@universalpackaging.ca
With the aim of expanding business, we are facilitating Canada, United States and the United Kingdom with a Free Shipping service and Fast production.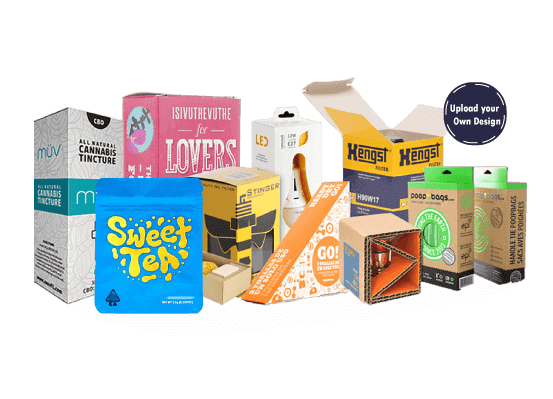 Transform Your Packaging and Increase Sales
We are passionate about helping our clients create solutions that not only protect their products but also showcase their brand in the best possible light. With our expertise in creative boxes, mylar bags, and stickers, we can help you elevate your brand's image and make your products shine. We are not just a Custom Packaging Vancouver company. Our team of experienced professionals is dedicated to delivering personalized service and exceptional quality every step of the way. Choose us as partner and experience the joy of receiving packaging that boost your business.
Unleash the power of packaging with the leading provider in your area.  Whether you need custom boxes, bags, or stickers, we've got you covered as vancouver packaging company. We specialize in creating packaging solutions for a wide range of industries, including food and beverage, health and beauty, and more.
Present Your Products with Custom Packaging Solutions – Vancouver and Calgary's Leading Experts!
Looking for top-notch packaging companies in Vancouver or Calgary? Look no further than our custom packaging services! We're the experts in creating customized packaging solutions that make your products stand out.
From custom packaging in Calgary to product packaging in Canada, our team of experienced professionals will work with you every step of the way to ensure that your packaging needs are met. Our printing and packaging services are second to none, and we take pride in providing our clients with high-quality products at competitive prices.
Whether you're looking for packaging printing near me or need custom packaging solutions for your business, we've got you covered. Our state-of-the-art technology and modern facilities allow us to produce packaging products quickly and efficiently, so you can get your products to market faster.
So why wait? Choose us for all your custom packaging needs and unleash the power of packaging for your business today!
 Unmatched Custom Packaging Solutions in Canada – Your Search Ends Here!
Are you looking for custom packaging solutions in Canada that can take your brand to the next level? Look no further than Universal Packaging. Our team of experts can help you design and manufacture custom packaging boxes and bags that not only protect your products, but also enhance their visual appeal.
High-Quality Packaging Printing Services is just one Chat or Communication away with our Packaging Expert for Free
At Universal Packaging, we offer high-quality packaging printing services that are designed to meet your specific needs. Whether you need custom boxes, bags, or labels, we use advanced printing technology to ensure that your designs are printed with the highest level of accuracy and detail.
Custom Packaging Design Support
A great product deserves great packaging. Our team of expert designers can help you create custom packaging that stands out on the shelf and attracts customers. With our custom packaging design services, we'll work with you to create packaging that's not only functional, but also visually appealing and on-brand.
Wholesale Packaging Solutions in Affordable Range
If you're looking for wholesale packaging solutions in Canada, you've come to the right place. We offer a wide range of custom packaging boxes and bags at competitive prices. Whether you need small or large quantities, we can help you get the packaging you need to keep your business running smoothly.
Packaging Supplies in Scarborough and at all other regions with Free Shipping
Looking for packaging supplies in Scarborough? Universal Packaging has you covered. We offer a wide range of packaging materials and supplies, including boxes, bags, labels, and more. Our expert team can help you find the right packaging solutions for your business needs.
Canadian Custom Packaging and Printing Experts
Universal Packaging is based as Canadian custom packaging and printing company that specializes in providing high-quality packaging solutions for businesses across Canada. With over 30 years of experience, we have the expertise to help you design and manufacture custom packaging that's tailored to your specific needs. 
So Start Today and Submit your quote request now for Free