Custom Tea Packaging
Unlock the Power of Printed Tea Packaging and elevate Your Brand with Custom Tea Bags & Boxes | Wholesale & Eco-Friendly Solutions Available with Printing| Submit your Free Quote request now for Personalized Tea Packaging!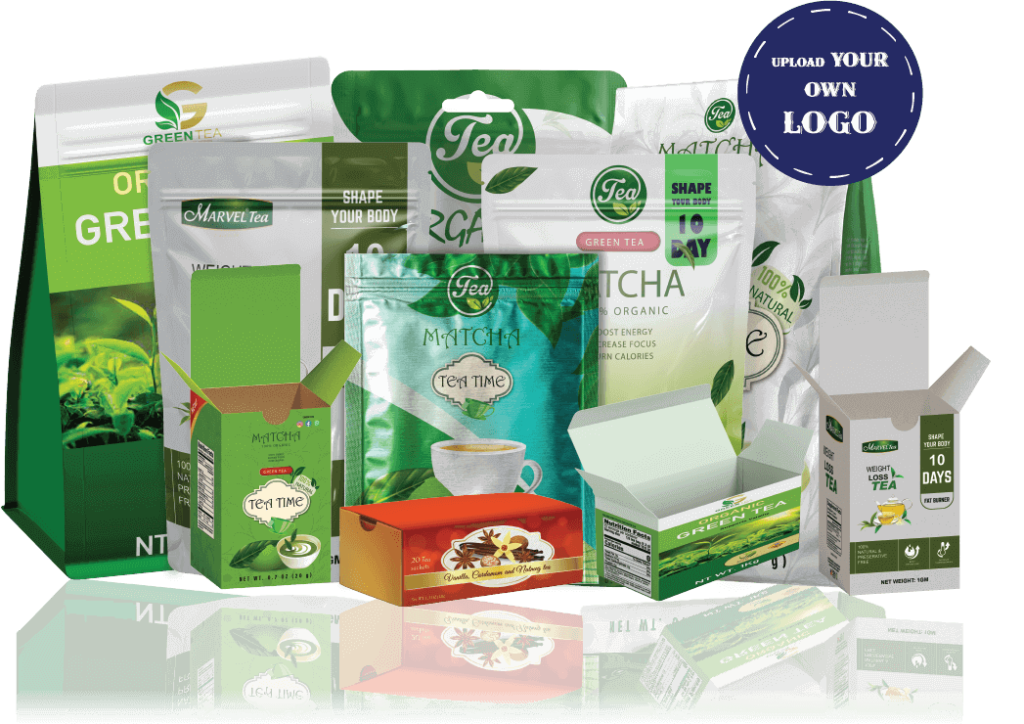 Are you searching for attractive packaging solutions to present your exceptional tea brand? You are at right place! Our custom tea packaging options are designed to not only preserve the freshness of your tea but also seek your customers' attention. From tea bags to boxes, we offer a wide range of choices that align with your brand's vision.
SPECIFICATIONS for Tea Bags and Boxes
Design

Any design, pattern, logo or artwork is printable on Bags as well as Boxes

Dimension (L + W + H)

Give us your desired size and let us change your vision into reality

Quantities

We do have minimum order quantities based on the design size flexibility and timeline.

Stock

For Bags: PET, Clear PET, METALIZED (Aluminum), Kraft (chat with our packaging expert for better selection)
For Boxes: 80 Lb, 100 Lb, 120 Lb, 140 Lb, 160 Lb, 200 Lb Card or Kraft Stock, Corrugated, 1000 -1200 GSM Rigid Stock

Printing

Digital, Gravure Printing, PMS (Pantone Matching System), Spot Colors and CMYK

Finishing

Gloss, Matte Finishing, Gloss AQ, Gloss UV, Matte UV, Spot UV, Embossing, Foiling(Gold, silver, Cooper, Red, Blue Foil Stamping)

Additional Options

Window Patching, Die-cutting, Laser cutting

Turnaround

(10-12 business days) Depends upon number of color layers and size, after press-ready file confirmed by client

Shipping

Ship Flat, Packed in container, UPS, FedEx, DHL
Recent Work of Custom Tea Packaging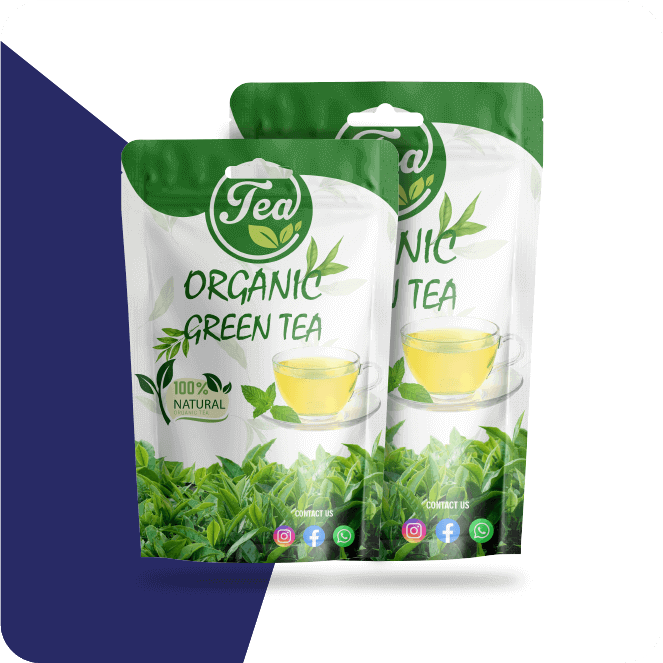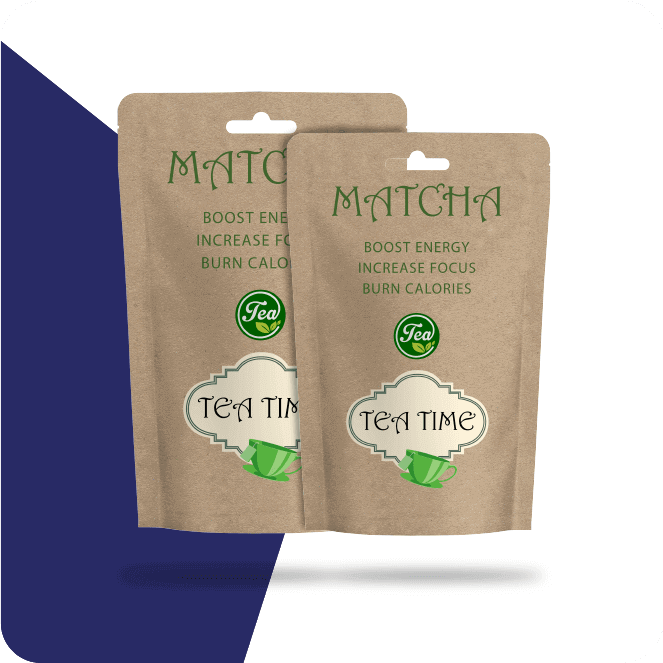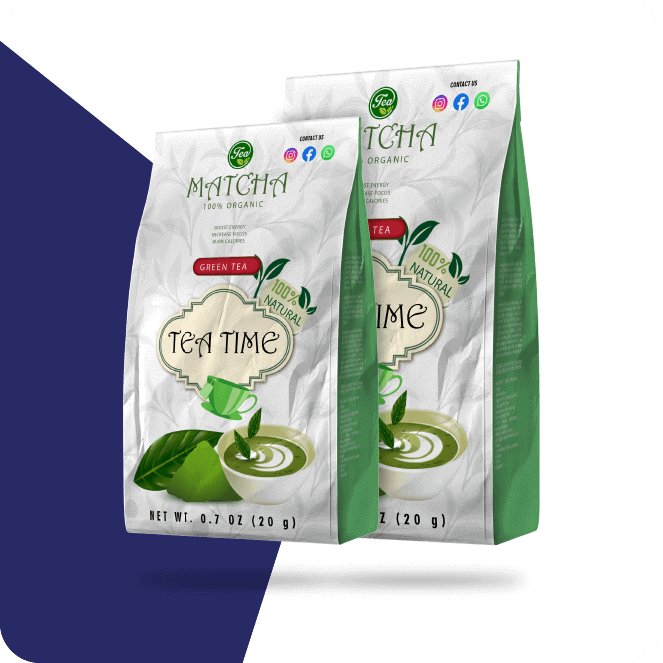 Frequently Asked Questions (FAQs) for Custom Tea Packaging
What types of custom tea packaging do you offer?
We provide a wide range of custom tea packaging options, including custom tea bags, tea boxes, Tea Sachet Packaging, and more. Our Custom Packaging solutions are customized to show the uniqueness of your tea brand.
Can I get eco-friendly tea packaging for my brand?
Absolutely! We are committed to sustainability. Our eco-friendly tea packaging options are designed to align with your brand's values while maintaining the freshness and quality of your teas.
How can personalized tea packaging enhance my brand's visibility?
Personalized tea packaging adds a distinct touch to your brand. It helps create a memorable unboxing experience for customers and reinforces your brand identity, making your teas stand out in a competitive market.
Can I incorporate my brand's logo and design on the packaging?
Yes sure, we can print anything you want to see on your required packaging tea bags or tea boxes.
How can I place an order for custom tea packaging?
Our process is very simple. Just submit your custom quote request or chat with our packaging expert. Our packaging experts will contact you to finalize your size and design requirement. Once you will approve your design proof, we will send you payment link so you can proceed with your order.
Our custom tea bag packaging is tailored to reflect the uniqueness of your tea collection. Delight your customers with personalized tea bags that come in an array of sizes and materials. Whether it's eco friendly packaging or individual tea bag packaging, we've got you covered. The individually packaged tea bags ensure that each brew is a fresh and flavorful experience.
Exquisite Tea Box Packaging to Stand Out
Elevate your tea presentation with our meticulously crafted custom tea box packaging. Provide your artwork designs and choose sizes to fit your requirements for Custom Stand Up Pouches. Our custom printed tea packaging guarantees a lasting impression, making your brand unforgettable. Plus, our eco-friendly tea box packaging options resonate with environmentally conscious consumers.
Wholesale Solutions for Bulk Custom Tea Packaging
For those seeking wholesale tea packaging, we offer competitive options without compromising on quality. Our bulk tea packaging solutions encompass both tea bags and loose leaf tea. Crafted to maintain tea freshness, our packaging also offers a blank canvas for your brand's storytelling.
Preserve Freshness with Loose Leaf Tea Packaging
Maintaining the authenticity and freshness of loose leaf tea is essential. Our loose leaf tea packaging in Printed Mylar Bags ensures that your tea's rich aroma and flavor are well-preserved. With a variety of packaging sizes available, you can choose the perfect fit for your loose leaf tea collection.
Unveil the Allure of Your Tea Brand
In the competitive world of tea, packaging plays a pivotal role in attracting customers. Our packaging for tea bags and loose leaf tea complements your brand's essence, providing an exquisite unboxing experience. Stand out with our custom tea packaging boxes that tell your brand's story while keeping your tea products in perfect condition.
With a comprehensive range of custom tea packaging solutions, we're dedicated to helping your tea brand make a lasting impact. From eco-friendly tea bag packaging to personalized tea boxes, we cater to your unique requirements. Elevate your tea offerings and engage your audience with packaging that resonates. Contact us today to explore the endless possibilities of premium tea packaging.