Custom Kraft Stand Up Pouches with Printing
Looking for custom Kraft stand-up pouches with custom printing? We are a leading manufacturer based in Canada, offering a wide range of eco-friendly, biodegradable, and compostable options. Get premium-quality Kraft stand-up pouches with windows at wholesale prices!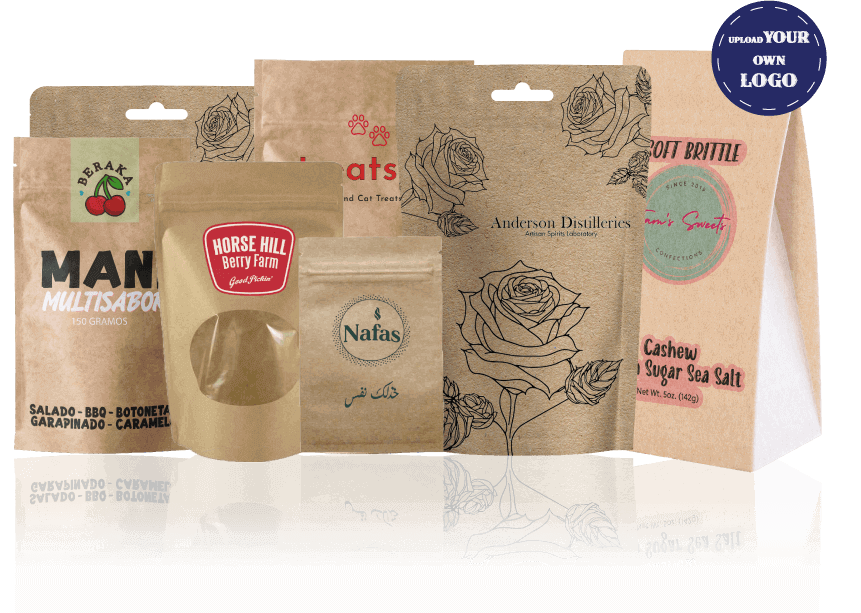 Welcome to Universal Packaging, your packaging partner for high-quality custom Kraft stand-up pouches with custom printing. As an reputable manufacturer in your region, we are proudly offering eco-friendly packaging solutions that cover to your unique needs. With a focus on sustainability and functionality, our Kraft stand-up pouches are the perfect choice for the food industries all around the world.
SPECIFICATIONS
| | |
| --- | --- |
| Design | Any artwork, design, logo or layout is printable |
| Dimension (L + W + H) | Share your required sizes with our packaging experts in terms of L x W x H (Any size is doable) |
| Quantities | We do have minimum order quantities based on the design size flexibility and timeline. |
| Stock | PET, Clear PET, METALIZED (Aluminum), Kraft (chat with our packaging expert for better selection) |
| Printing | Digital, Gravure Printing, PMS (Pantone Matching System), Spot Colors and CMYK |
| Finishing | Gloss, Matte Finishing, Gloss AQ, Gloss UV, Matte UV, Spot UV, Embossing, Foiling(Gold, silver, Cooper, Red, Blue Foil Stamping) |
| Additional Options | Window Patching, Die-cutting, Laser cutting |
| Turnaround | (10-14 business days) Depends upon number of color layers and size, after press-ready file confirmed by client |
| Shipping | Ship Flat, Packed in container, UPS, FedEx, DHL |
Recent work done of Kraft Mylar Bags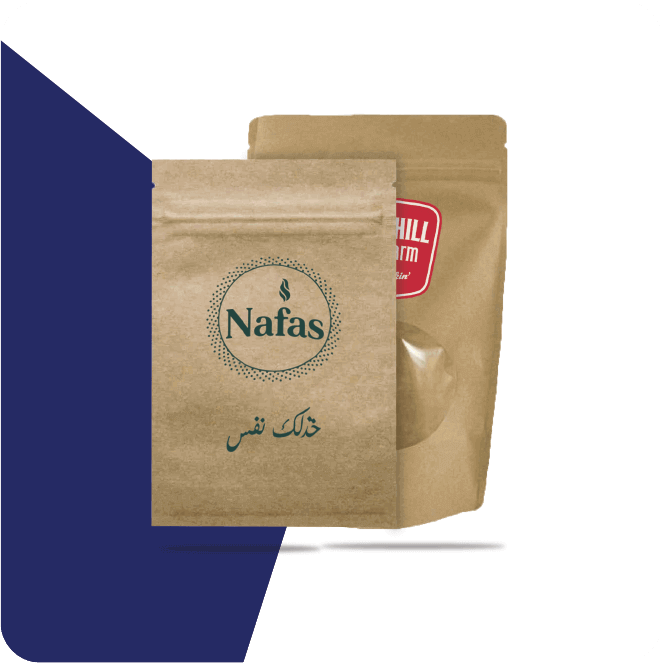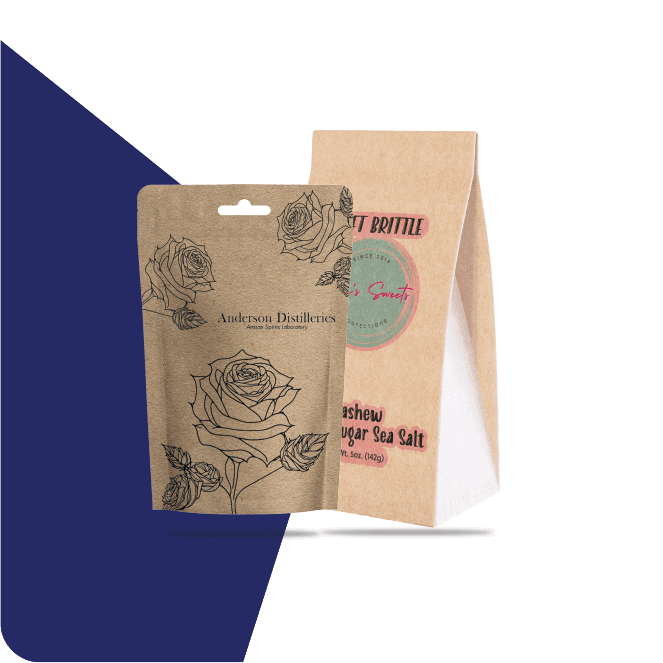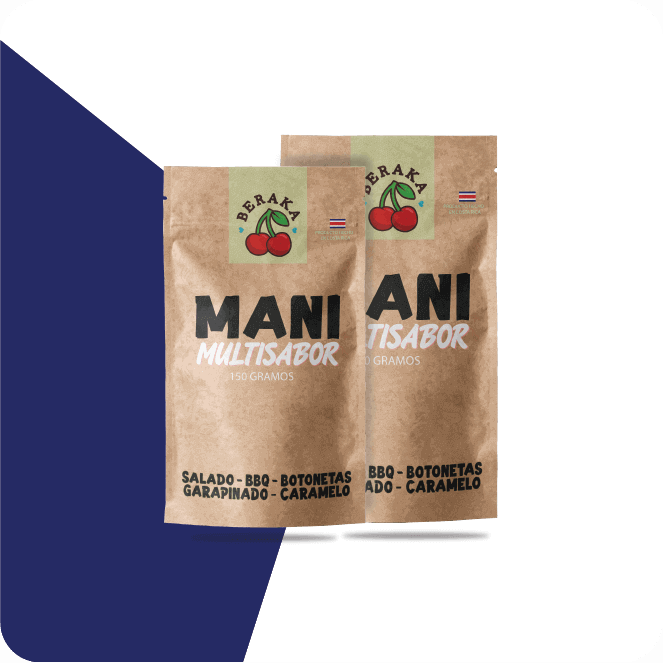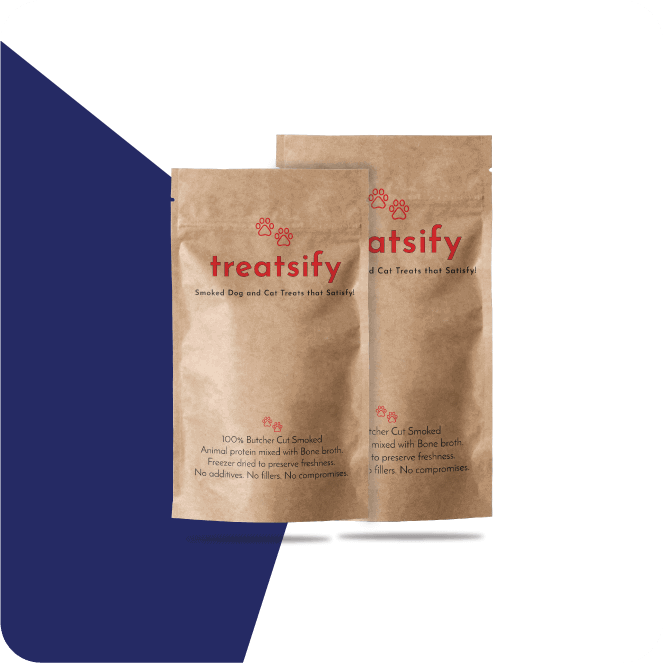 Frequently Asked Questions (FAQs) for Custom Printed Kraft Stand Up Pouches
What products are suitable for packaging in Kraft stand-up pouches?
Kraft stand-up pouches are versatile and can be used for packaging various products such as coffee, tea, snacks, nuts, dried fruits, powders, pet treats, and more.
Are Kraft stand-up pouches eco-friendly?
Yes, Kraft stand-up pouches are eco-friendly and biodegradable. They are made from renewable Kraft paper, which is derived from wood pulp, making them a sustainable packaging option.
Can I customize the design and printing on the Kraft stand-up pouches?
Absolutely! Our company offers custom printing services for Kraft stand-up pouches, allowing you to add your brand logo, artwork, product information, and other design elements to create a unique and attractive package.
What is the minimum order quantity for custom Kraft stand-up pouches?
The MOQ for custom Kraft stand-up pouches may vary depending on the size and your artwork. Our packaging experts and sales team will be happy to assist you with all your requirements.
What is the turnaround time for manufacturing custom stand-up pouches?
Production time may vary depending on the layers of your artwork and the quantity.
How do I proceed with my order for custom stand-up pouches?
Our process of placing an order is easy! Simply contact with our sales team through our website or contact details, and they will assist you throughout the process.
Choose Our Kraft Stand-Up Pouches
Premium Kraft Paper Material: Our stand-up pouches are crafted from durable and eco-friendly Kraft paper, ensuring your products are well-protected and presented in an appealing manner.
Custom Printing:
Stand out from the competition with our custom printing services. Add your brand logo, artwork, and product details to create a visually striking package that leaves a lasting impression on your customers.
Versatile Options:
We offer an extensive range of Kraft stand-up pouches, including various sizes, styles, and window options. Whether you need 4 oz pouches or larger ones, we have you covered.
Eco-Friendly and Compostable:
With growing environmental concerns, our biodegradable and Compostable Stand Up Pouches align with your brand's sustainability goals, making them an eco-conscious choice.
Wholesale Pricing:
As a direct manufacturer, we offer competitive wholesale prices either these are Mylar Bags For Freeze Dried Food, ensuring you get the best value for your investment without compromising on quality.
Our Product Range:
Kraft Stand-Up Pouches with Window: Showcase your products attractively with our Kraft stand-up pouches featuring a clear window, allowing customers to preview the contents inside.
Black and White Kraft Stand Up Pouches: Make a bold statement with our black Kraft stand up pouches or choose the classic elegance of white Kraft stand-up pouches.
Barrier Pouches:
For products requiring extra protection against moisture either it is for Jerky Packaging, oxygen, and other external elements, our Kraft barrier pouches are the ideal choice.
Customization:
Tailor your Kraft stand-up pouches according to your specific requirements. Our expert team will assist you in creating the perfect design that reflects your brand identity.
Why Packaging Matters:
In today's competitive market, attractive and functional packaging plays a vital role in attracting consumers. A well-designed Kraft stand up pouch not only protects your products but also serves as a powerful marketing tool. With custom printing and unique branding, your products will stand out on the shelves, enhancing brand recognition and customer loyalty.
At Universal Packaging, we are committed to delivering top-notch custom Kraft stand up pouches that meet your packaging needs while adhering to eco-friendly practices. Elevate your product presentation and make a positive impact on the environment with our sustainable packaging solutions. Contact us today to discuss your requirements and let our expert team create the perfect custom Kraft stand-up pouches with custom printing for your brand.