CUSTOM BEEF JERKY BAGS
Keep Your Beef Jerky Fresh and Delicious for Longer With Our Custom Beef Jerky Bags. With a Variety of Sizes and Materials to Choose From, They Will Protect Your Jerky While Giving It a Professional and Eye-catching Look That Customers Won't Be Able to Resist.


Welcome to Universal Packaging, the ultimate destination for all your Custom Beef Jerky Packaging Bags needs. As your trusted partner, we understand the significance of personalized packaging in today's competitive market. That's why we take immense pride in presenting our unrivaled capabilities in customizing pouches of every size, style, and shape, all with the added touch of custom printing.
Get your beef jerky packaging bags with your special design and desire material. You just follow 6 easy step
and they will be ready in your desired shape.
STEP 1:
CHOOSE YOUR DESIRED CUSTOM BEEF JERKY BAGS DESIGN
SPECIFICATIONS
| | |
| --- | --- |
| Style | Any style and shape |
| Dimension (L + W + H) | Any doable Size and Dimension |
| Quantities | 100 – 500,000 |
| Stock | Plastic (PET and Clear PET), Brown Kraft, Food gradable, and Aluminum. |
| Printing | Printing (Digital or Plain), PMS & CMYK Colors Scheme, and Spot Colors. |
| Finishing | Matte UV, Spot UV, Gloss Lamination, Gloss AQ Lamination, Matte Lamination, Embossing or Debossing, Metal Foiling |
| Additional Options | Resealable Closure, Zipper Lock, Heat Sealable, PVC Window Design, and Round/ Square Corner |
| Turnaround | 10 – 15 working days after confirmation of design by our customers |
| Shipping | Pack in Boxes then ship, through UPD, DHL, and FedEx. |
STEP 2
:
CHOOSE YOUR SIZE
 If you are looking for a unique beef jerky bag sizes, please submit your free quote request or chat with our consultant. Certainly! Here are the standard sizes for beef jerky mylar bags along with their approximate capacities in both grams and ounces:
3.5″ x 5″ (approximately 9 cm x 13 cm): Capacity: Around 28 grams (1 ounce) of beef jerky.

4″ x 6″ (approximately 10 cm x 15 cm): Capacity: Approximately 56 grams (2 ounces) of beef jerky.

5″ x 8″ (approximately 13 cm x 20 cm): Capacity: About 113 grams (4 ounces) of beef jerky.

6″ x 9″ (approximately 15 cm x 23 cm): Capacity: Around 170 grams (6 ounces) of beef jerky.

7″ x 10″ (approximately 18 cm x 25 cm): Capacity: Approximately 227 grams (8 ounces) of beef jerky.

8″ x 12″ (approximately 20 cm x 30 cm): Capacity: For 340 grams (12 ounces) of beef jerky.

Please remember, these are approximate dimensions. Actual capacity may vary depending on the thickness and density of the beef jerky. When comes to choosing a mylar bag size, consider both the weight/volume of your product and your packaging requirement. Custom sizes are also available to suit your specific needs of beef jerky bags wholesale.
STEP 3:
CHOOSE YOUR PACKAGING MATERIAL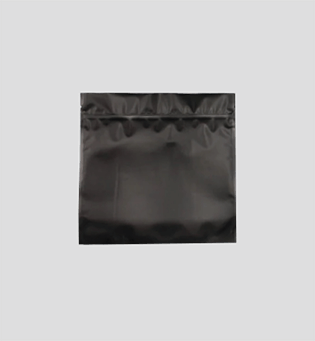 PET:
PET is a thermoplastic polymer resin used in the manufacturing of jerky. It is a lightweight, durable, and strong material that is widely used in the food and beverage industry.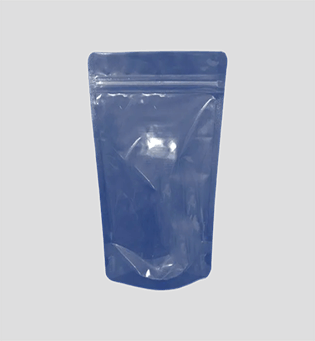 Clear PET:
Clear PET refers to a specific type of PET that is transparent or clear in appearance. It is commonly used in the manufacturing of packaging materials, such as food and beverage pouches.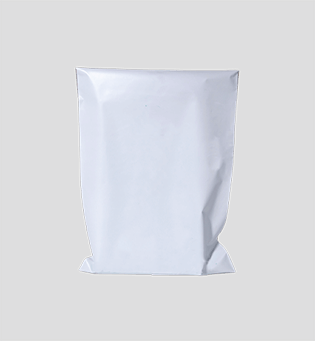 Biodegradability:
Biodegradability is the ability of a packaging material or a substance to be softened by natural processes, such as microbes over time. It is an environment-friendly material.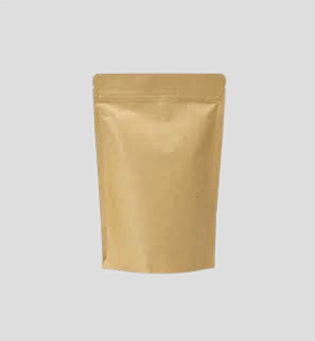 Kraft:
Kraft is an unbleached paper, made from wood pulp. It is a light brown color and eco-friendly material that has a rough, natural texture that gives it a rustic appearance.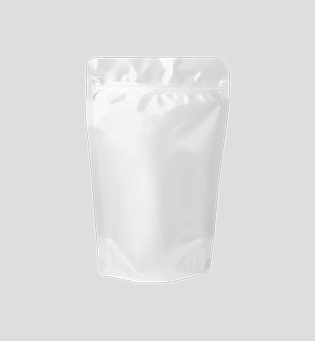 Recyclable:
Recyclable refers to the ability of a material to be processed and reused after it has served its original purpose. You can choose recyclable packaging material for your items.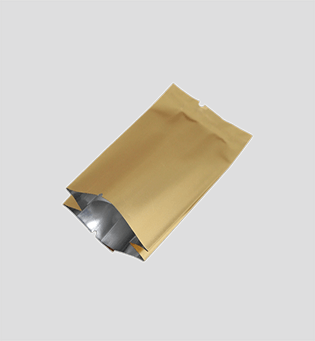 Kraft foil:
Kraft foil is a type of material that combines the strength and durability of the pouches with the barrier properties of foil. It is made by adding a layer of foil onto an inner layer.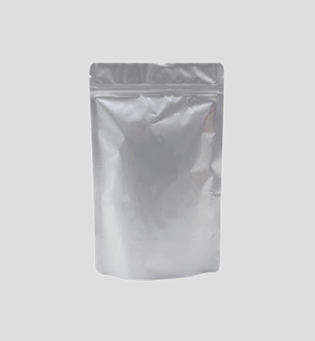 Aluminum:
Aluminum foil is a thin and flexible sheet of aluminum. It is commonly used in the Mylar packaging and food industries. It gives strength to the bag and make beef jerky pouches durable.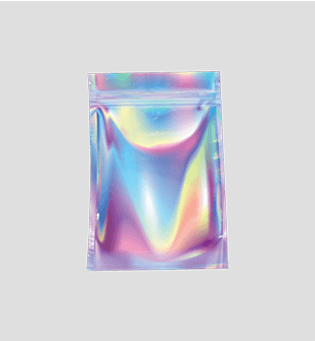 Holographic:
Holographic is a colorful material that produces a three-dimensional effect under light. It gives a unique optical look that produces a shimmering, iridescent appearance.
STEP 4:
CHOOSE YOUR FINISHING OPTION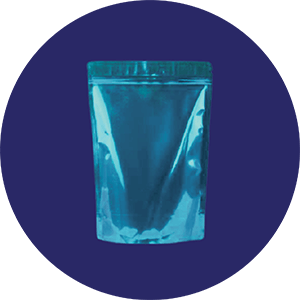 Gloss Lamination
Gloss lamination adds a shiny, reflective coating to printed bags, providing enhanced durability, and vibrancy, and giving a premium look.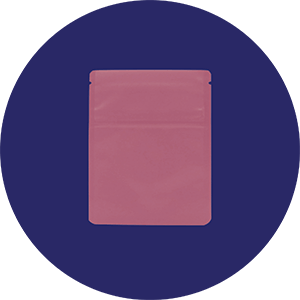 Matte Lamination
Matte lamination is a finishing technique used in the printing and packaging industries to give a non-glossy appearance on a printed surface.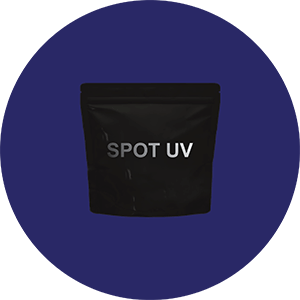 Spot UV
Spot UV is a special printing process that adds a high-gloss, raised coating to specific areas of printed material, and enhances the visual appeal.
Foil Stamping
It is a printing process that uses heat and pressure to apply a metallic foil to a surface and creates a visually striking and decorative effect.
STEP 5:
CHOOSE YOUR ADD-ONS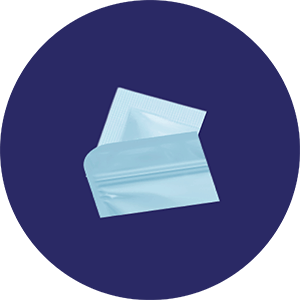 Rectangular / Round Corners:
Rectangular or Round Corners Feature That Adds a Soft and Smooth Appearance to the Edges of an Object or Surface.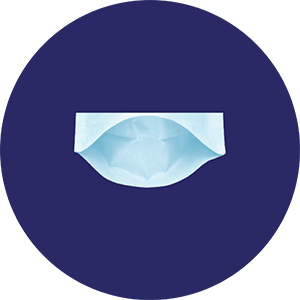 Bottom Gusset:
A Bottom Gusset of a Bag or Pouch that to Expand the Bottom to Make it as Stand Up Pouches  and Provide More Space for Contents.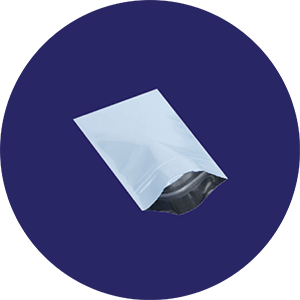 Re-sealable Zipper
customize your package with re-sealable zipper Closure that can allow you to seal back the pack after opening.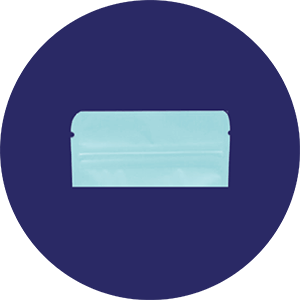 Tear Notch:
A small incision or cut made in a packs, usually near the top, to provide a convenient and easy opening way for the consumer.
STEP 6:
CHOOSE HANGING HOLE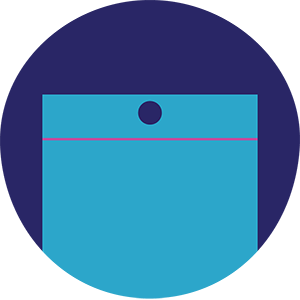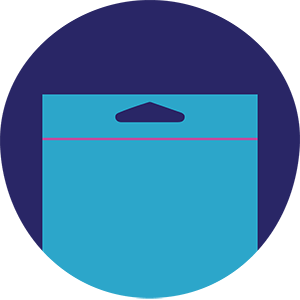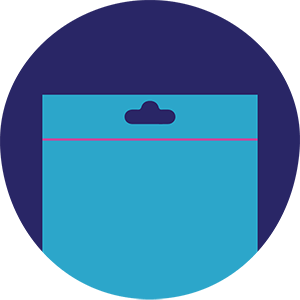 FREQUENTLY ASK QUESTIONS
What are beef jerky packaging?
They are packaging bags that are specifically designed for beef jerky products. These are made from different materials and can be printed with custom visuals.
What materials are custom beef jerky bags made from?
These bags are made from a range of materials that includes plastic (PET), paper, Kraft, foil, and bio-degradable materials.
What are the benefits of using custom beef jerky bags?
There are various benefits, like improved branding, marketing, increased product visibility and shelf appeal, also enhanced product protection and preservation.
What printing options are available for custom beef jerky bags?
There are different printing options available, it includes flexographic printing, digital printing, and rotogravure printing.
How long does it take to receive my custom beef jerky pouches?
The lead time for custom beef jerky bags depends on various factors, such as the size of the order, the complexity of the shape, as well as printing requirements. You can also discuss your timeline with our packaging experts before placing your order to ensure that you receive on time.
Can custom jerky bags be printed with custom graphics and logos?
Yes, you can print with your business visuals, logos, and text to help promote your brand.
Can custom jerky bags be customized with special features, such as zip locks or tear notches?
Yes, you can design your bags with special features, such as zip locks, hang holes, tear notches, and more, to improve functionality and convenience.
What is the minimum order quantity for custom beef jerky bags?
The minimum order for custom beef jerky bags depending on the complexity of design. However, it is range of 500 to 100,000.
What sizes and shapes are available for custom beef jerky bags?
They are available in different sizes die Cut Out Mylar Bags, and can be customize to accommodate customers. Some common shapes are stand-up pouches, flat pouches, and re-sealable bags.
Are custom bags mad with a bottom gusset?
Yes, we can customize them with a gusset for added capacity, allowing the bags to expand, stand straight, and carry more content.
How can I order Custom Jerky bags online?
Our online process is very easy. Just submit free instant quote now, our expert will contact you to get approval on your design and send you further order processing instructions.
CUSTOMERS FEEDBACK




Custom Beef Jerky Packaging – Keep Your Jerky Fresh and Delicious!
Custom beef jerky packaging can help your product stand out on store counter and display shelves. Also, it can attract the attention of potential customers. You can design your packing with graphically appealing that can clearly communicate about your brand identity and important information such as ingredients and nutritional values for your region as Mylar Bags Canada. You can also choose your desire material that is durable, moisture-resistant, and can protect the quality and preserve the freshness of your beef jerky. Commonly used materials are plastic, paper, and aluminum foil.
Get Beef Jerky Bags and Labels That Can Boost Your Appeal
Beef jerky bags and labels are essential components for packing and branding your beef jerky products. You can add your own design, logo, and label information to create a unique and memorable packing experience for your customers. Labels play a crucial role in providing important product information such as ingredients, nutritional values, and expiration dates. Investing in high-quality beef jerky packs and labels can help boost the appeal of your products and increase customer loyalty. you can also use them as Freeze Dried Bags.
However, the pouches need to be durable, moisture-resistant, and air-tight to maintain the freshness and quality of your jerky. Custom beef jerky packs offer a great opportunity to showcase your brand and differentiate your product from others in the market.
Get the Benefits of Beef Jerky Vacuum Seal Bags
Beef jerky vacuum seal bags are an important packaging option for preserving the taste, freshness, and quality of beef jerky. They use a vacuum sealing process to remove air from the bag, which helps to avoid oxidation. It provides better flavor retention, increase the shelf life of the product, provide protection from moisture and bacteria. However, it's important to choose a high-quality bag that is specifically designed for vacuum sealing. That are made from durable materials such as nylon or polyethylene, and ensure that they have a reliable sealing mechanism to ensure that the vacuum seal is airtight.
 The Best Jerky Bags Suppliers in Canada
Universal packaging is the best in all of jerky bags suppliers in the Canada. We are expert in custom packaging solutions for the food industry, including jerky. We offer a wide range of sizes and materials, as well as, providing custom printing services for branding and marketing purposes.