Custom Pet Food Packaging
Get premium custom pet food packaging solutions with resealable dog treat bags, custom printing, and a range of packaging options to showcase your brand. Transform your pet treats with our expertise today.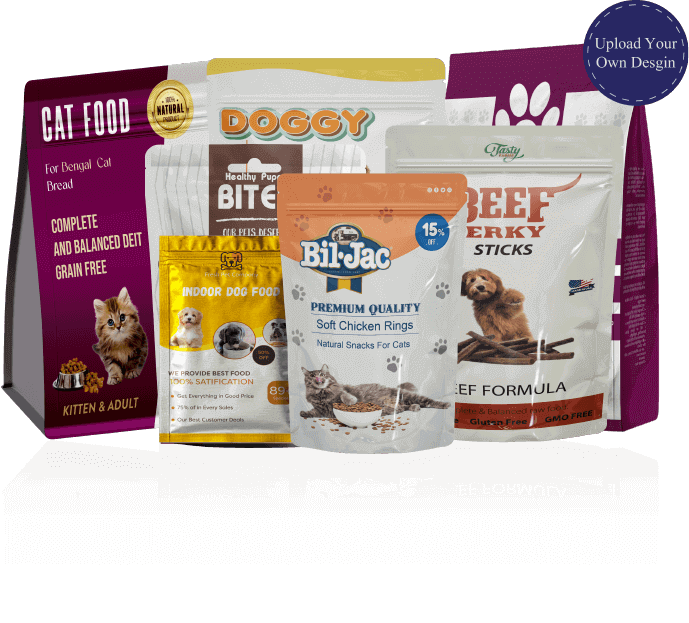 Whenever it is about packaging of branded products, we understand that every product is unique and requires special attention. Our highly professional and dedicated team of packaging experts specialize in designing of resealable dog treat bags, custom dog food bags, and custom pet food packaging that not only preserve the freshness of your pet's favorite treats but also reflect your brand identity. We take your vision and turn it into reality, offering bags in various sizes, shapes, and styles to perfectly fit your requirements.
SPECIFICATIONS
| | |
| --- | --- |
| Design | Any design, pattern, logo or artwork is printable |
| Dimension (L + W + H) | Give us your desired size and let us change your vision into reality |
| Quantities | We do have minimum order quantities based on the design size flexibility and timeline. |
| Stock | PET, Clear PET, METALIZED (Aluminum), Kraft (chat with our packaging expert for better selection) |
| Printing | Digital, Gravure Printing, PMS (Pantone Matching System), Spot Colors and CMYK |
| Finishing | Gloss, Matte Finishing, Gloss AQ, Gloss UV, Matte UV, Spot UV, Embossing, Foiling(Gold, silver, Cooper, Red, Blue Foil Stamping) |
| Additional Options | Window Patching, Die-cutting, Laser cutting |
| Turnaround | (10-14 business days) Depends upon number of color layers and size, after press-ready file confirmed by client |
| Shipping | Ship Flat, Packed in container, UPS, FedEx, DHL |
Standard Sizes for Pet Food Bags
| | | | |
| --- | --- | --- | --- |
| Small Sizes: | 3″ x 5″ inches | 4″ x 6″ inches | 5″ x 8″ inches |
| Medium Sizes: | 6″ x 9″ inches | 8″ x 10″ inches | 8″ x 12″ inches |
| Large Sizes: | 10″ x 12″ inches | 12″ x 16″ inches | 12″ x 18″ inches |
| Extra-Large Sizes: | 16″ x 20″ inches | 18″ x 24″ inches | 20″ x 30″ inches |
It's important to note that these are just general guidelines, and actual sizes can vary based on the volume of pet food being packaged, the type of pet food (treats, kibble, etc.) However, we can play with the size in any dimension, shape and style you need.
Recent Work Done of Customized Printed Pet Food Bags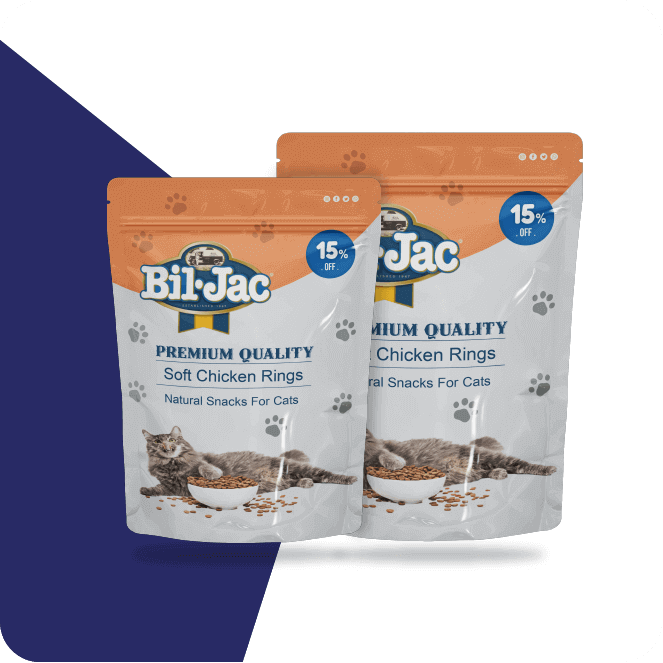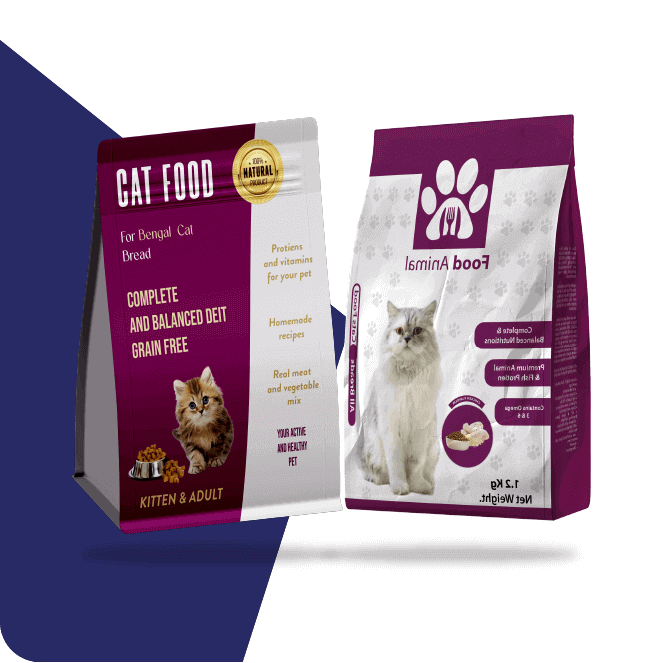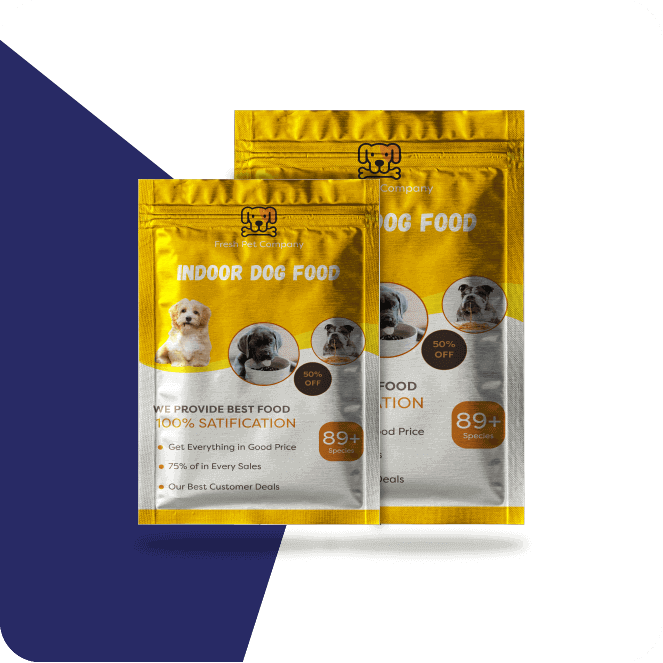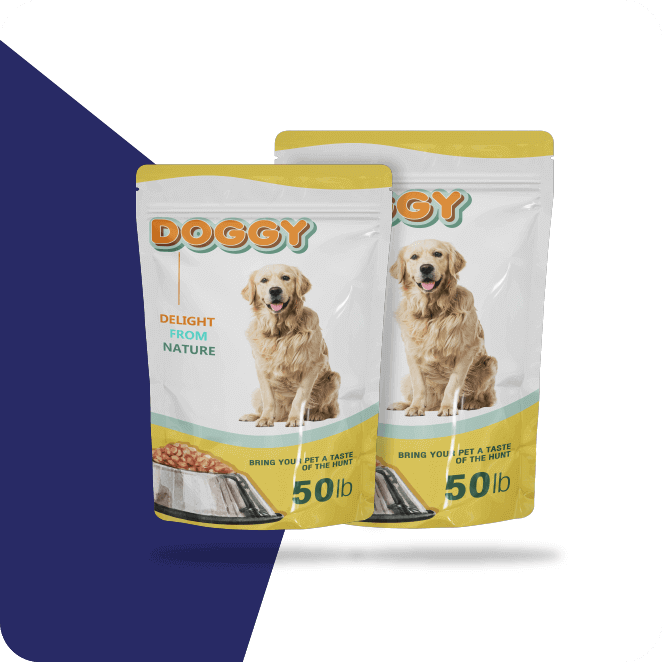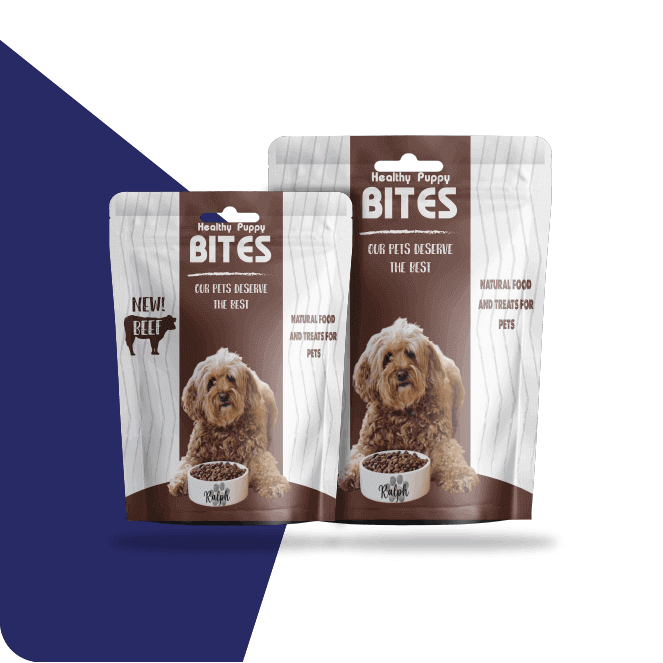 Frequently Asked Questions (FAQs)
What options are available for Custom Pet Food Packaging?
You can choose from a wide range of pet food packaging solutions, including resealable dog treat bags, custom dog food bags, and pet
Can you create custom printed pet food bags?
Yes, we specialize in custom printing for pet food bags. We can print anything like your logo, branding elements, product information, and more to create eye-catching and unique packaging.
What material options are available for custom pet food bags?
We believe in quality so we use high end mylar and other industry approved materials that are food-safe, durable, and help maintain the freshness of pet food products.
Do you offer different bag sizes to accommodate different pet food quantities?
Absolutely. Our customization options extend to various bag sizes to suit different product volumes, from small pet treats to larger bags for kibble and other products.
Can you help design the artwork for the custom printing?
Yes, our experienced design team can assist you in creating artwork that aligns with your brand and product identity.
What is the minimum order quantity for custom pet food packaging?
The minimum order quantity may vary depending on the complexity of the customization and the type of bags you're interested in. We're here to discuss your specific needs
How can I get a free price quote for my require custom pet food packaging needs?
Simply chat with our chat support agent or you can easily submit a quote request with all the details. We'll be happy to provide you with a customize quote based on your requirements.
Do you offer eco-friendly pet food packaging options?
Yes, we offer environmentally friendly packaging options, such as recyclable and biodegradable materials, to help align your packaging with sustainable practices.
Can you accommodate unique packaging features, such as zipper closures or windows?
Certainly. We can incorporate various features like resealable zippers, windows, tear notches, and more, based on your requirements.
Your Trusted Partner in Custom Pet Food Packaging Solutions
At Universal Packaging CA, we take pride in being a leading manufacturer of premium custom pet food packaging mylar bags. With a commitment to excellence and innovation, we offer a comprehensive range of packaging solutions designed to meet the unique needs of your pet food products.
Unveiling Creativity of Custom Pet Food Packaging Through Custom Printing:
We believe that packaging is not just about functionality, but also about aesthetics. Our expertise extends to creating eye-catching designs through custom printing. Whether you need your logo, brand colors, or product information prominently displayed on Stand Up Pouches, our team ensures that your packaging stands out on the shelves, enticing pet owners to choose your products.
Why Choose Our Custom Pet Food Packaging Solutions:
Quality: We believe in high quality standards. Our premium materials and employ advanced manufacturing techniques ensure that each bag meets the highest standards of durability and performance for all dog treats.

Customization: No two products are the same, and neither are our packaging solutions. From dog treat packaging bags to cat food packaging, we offer tailored solutions that align with your unique offerings.

Expertise: We do have years of experience in the industry, we understand the need of pet food packaging. Our work experience help us to deliver qualities.

Partnership: By choosing Universal Packaging, you are not just getting a supplier for Custom Printed Mylar Bags; you are getting a partner dedicated to your success in business.
Explore the Possibilities for Custom Pet Food Packaging Bags:
Discover the limitless possibilities of custom pet food packaging with Universal Packaging. Whether you're a small-scale pet treat business or a large pet food manufacturer, we have the expertise and resources to fulfill your packaging needs. Contact us today to discuss your requirements and let us create packaging that truly represents your brand.
Transform your pet food products into irresistible treasures with us. We are the cornerstone of impeccable packaging and unparalleled creativity. Choose excellence. Choose us.