Custom Bath Salt Packaging
Get your Custom eco-friendly Bath Salt Packaging solutions. From wholesale bath salt packaging to custom mylar bags, we offer quality, style, and sustainability. Submit your free quote request now to enjoy Free Shipping and Discounted Prices upto 15% OFF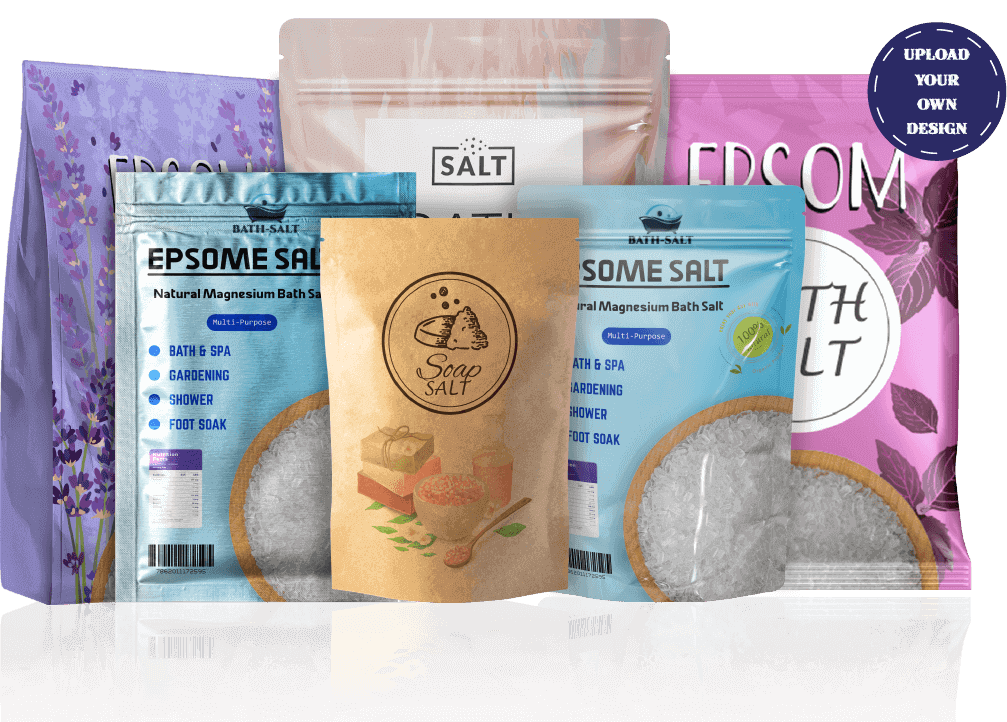 Looking for the perfect packaging solution for your bath salts? Lets work together! we specialize in creating packaging mylar bags that are not only eco-friendly but also gives the opportunity to get printed your own artwork on the bags for branding. 
SPECIFICATIONS of Bath Salts Bags
| | |
| --- | --- |
| Design | Customize artwork printing |
| Dimension (L + W + H) | In size that is suitable for the volume and weight of your bath salt |
| Quantities | 1-5000000 |
| Stock | PET, Clear PET, METALIZED (Aluminum), Kraft (chat with our packaging expert for better selection) |
| Printing | Digital, Gravure Printing, PMS (Pantone Matching System), Spot Colors and CMYK |
| Finishing | Gloss, Matte Finishing, Gloss AQ, Gloss UV, Matte UV, Spot UV, Embossing, Foiling(Gold, silver, Cooper, Red, Blue Foil Stamping) |
| Additional Options | Window Patching, Die-cutting, Laser cutting |
| Turnaround | (10-14 business days) Depends upon number of color layers and size, after press-ready file confirmed by client |
| Shipping | Ship Flat, Packed in container, UPS, FedEx, DHL |
Some glimpse of our Recent work done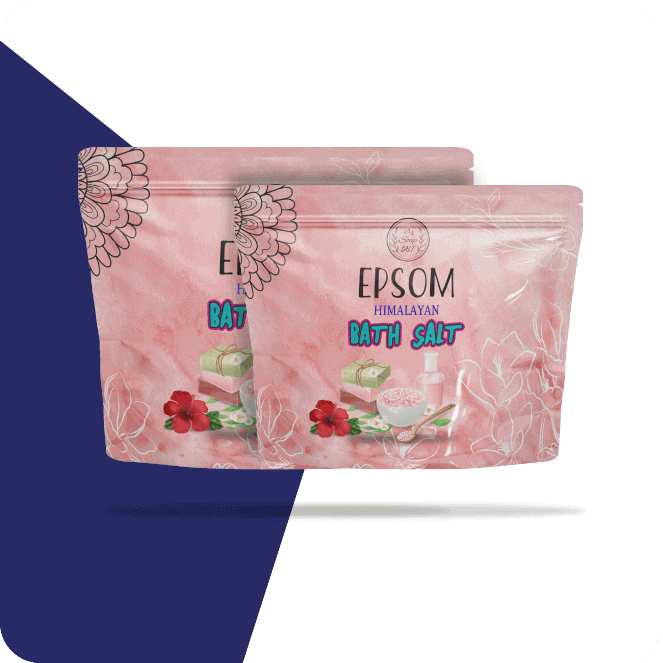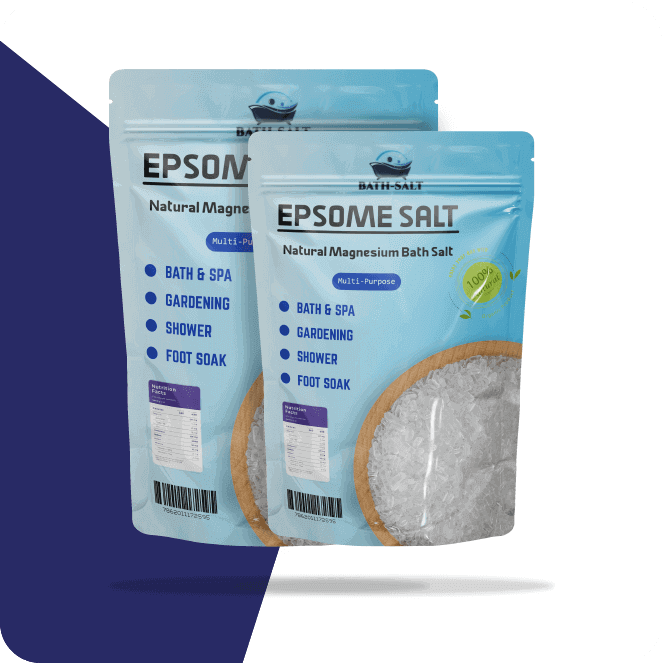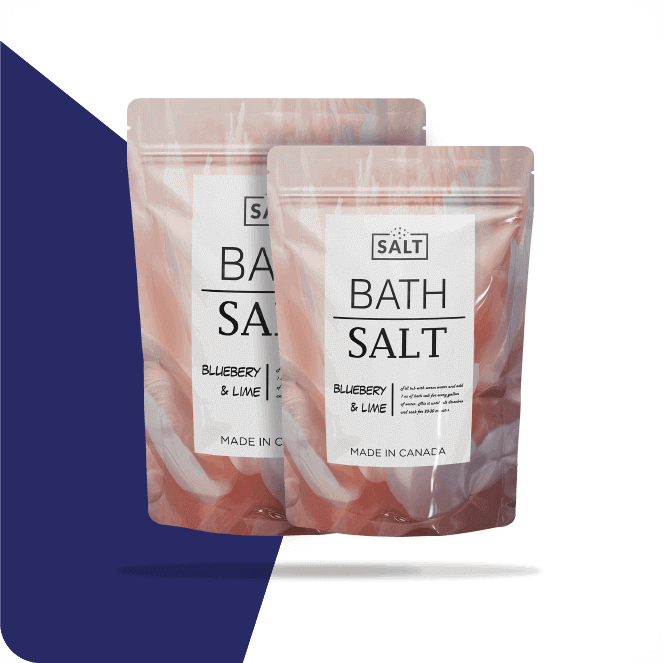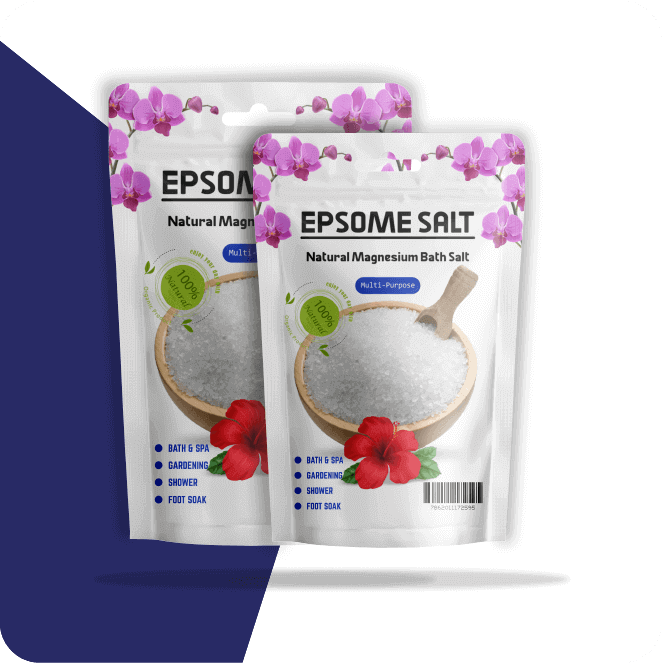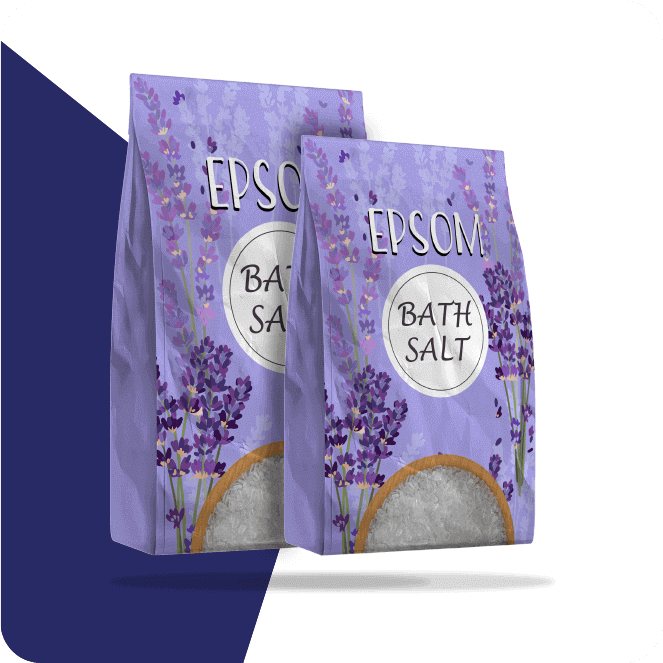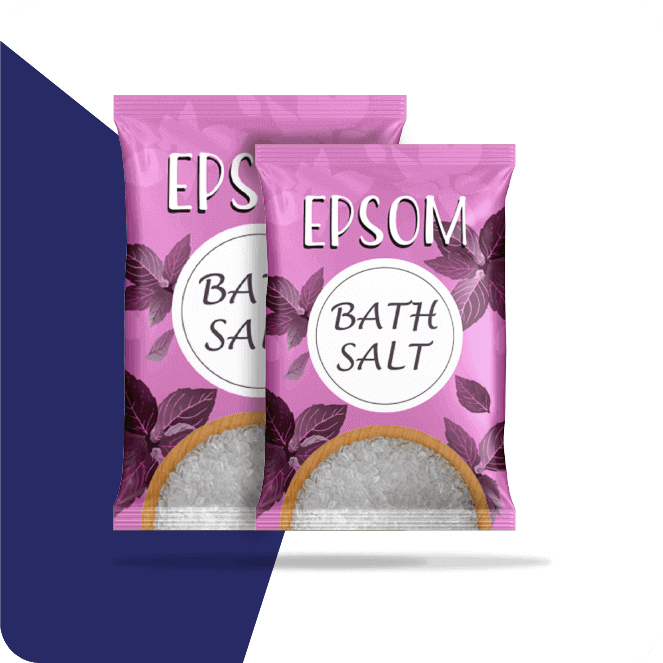 Frequently Asked Questions (FAQs)
What types of pouches, bags or boxes do you offer?
Being an personalized supplier of these packaging we have a range of bath salt packaging solutions, like mylar bags, paper bags, and eco-friendly options. You can get any size and style depending upon your requirement. Chat with our Live packaging expert for further details.
Can I order bath salts pouches in bulk or wholesale quantities?
Absolutely! We offer competitive pricing for wholesale bath salt packaging. Whether you need a small quantity or bulk orders, we can accommodate your requirements.
Do you provide custom branding options for the pouches?
Yes, we do. We understand the importance of branding. You can personalize your bath salt packaging with your logos, artwork, and branding elements to create a unique look for your products.
Can you assist with design and artwork for custom pouches?
Certainly! Our team can help you with the design and artwork for your custom bath salts bags. We have experienced designers who can bring your vision to life. Just submit your quote request or chat with our Live Packaging experts now.
What is the turnaround time for packaging orders?
Turnaround times can vary based on your specific requirements and the quantity ordered.
Lets work together and handover your packaging headache. Use Our Custom Bath Salt Packaging Solutions:
Bath Salt Packaging Bags:
Our bath salt packaging bags are personalize able designed to keep your bath salts fresh, ensuring they reach your customers in perfect condition. Choose from a wide range of sizes and styles to suit your branding. You can use Tea Packaging bags specifications too.
Eco-Friendly Bath Salt Packaging:
We are focused on sustainability. Get your Kraft Stand up Pouches Wholesale Prices. Our eco-friendly packaging for bath salts is made from environmentally responsible materials, that allows you to market your brand as environment friendly way. 
Wholesale Bath Salt Packaging:
If you're looking to purchase packaging for bath salts in bulk, we offer competitive wholesale pricing without compromising on quality. Your satisfaction is our top priority. So, order Bulk Mylar Bags with your own artwork printing now.
Customization Options:
Kill your competition with our custom bath salt bags. Add your branding, logos, and design to create packaging that reflects your creative style.
Why Choose Us:
Expertise: With years of experience in the industry, we understand the importance of bath salt packaging.

Quality: We are very confident in delivering high-quality packaging solutions that protect your bath salts from moisture, sunlight, and other external factors.

Eco-Conscious: Our commitment to eco-friendly bath salt packaging aligns with the growing demand for sustainable products and follow all the instructions. Your customers will appreciate your dedication to the environment.
Contact Us Today
Ready to give a life to your bath salt packaging game? Contact us today to discuss your requirements for bath salt packaging wholesale or custom solutions. Our team is here to assist you every step of the way.
For all your bath salt packaging needs, choose Universal Packaging—your trusted partner in eco-friendly and customizable bath salt packaging bags.